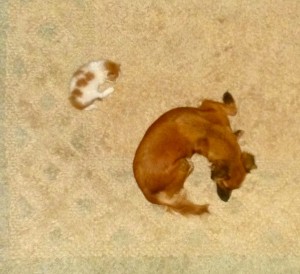 A few weeks ago a kitten appeared one night on our terrace in front of the sea, Rafa found her and brought her inside.  She was so tiny I thought she was a hamster.  The next day our little dog Lila adopted her and we fed her milk through a syringe until she was strong enough.  Nico, looking through my New York magazines decided we should call her Chanel and it stuck.  We thought we saw her mother and each time we put Chanel outside to see if her mother would take her back, but I think she had started to smell too doggy and although the mother was interested in watching her at a distance she didn't want her back.  Then one night the mother emerged from one of the old crab holes next to the sea with another little kitten.  So now Chanel lives with her dogs inside the house and garage, and her family live underground in the old crab city in the garden.  A little tele novella.  Many Cuban women of my generation only have 1 child, citing financial reasons usually for their decision.  Maybe Chanel's mother decided that she too could only afford one!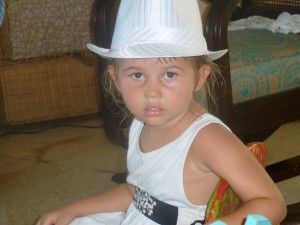 Last Saturday I finally made it to the regular rumba party that takes place every week in the Centro Cultural El Gran Palenque.  It starts at 3pm in the afternoon, we arrived around 4 with the three children.  Saskia who was all ready for action with Papa's Cuban hat fell asleep in the car on the way and therefore arrived a little grumpy.  There was a good crowd of people and everyone was really friendly.  I always feel at home in a rumba crowd.  They offered us chairs and chatted to the children.  Someone offered me a local fruit wine he was drinking out of a coconut shell!  Saskia spotted a new friend and trotted off right through the performing dancers without a backward glance.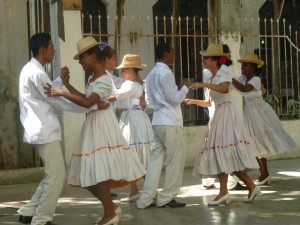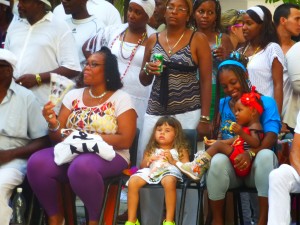 Eventually, Paulo, 8 going on 13 announced that he was bored and started to fight over my iPod so after a quick dance we hot-hoofed it home around 6.15 just as the party was getting going.  Deciding that we will go back soon just the two of us.
The last few weeks have been quite an emotional rollercoaster for anybody connected with Guatemala.  We have been following the trial of Rios Montt, the ex dictator, who was involved in the genocide of 200,000 mainly Mayan people and the disappearance of many thousands, including my husband's brother.
Brave women gave evidence at the trial of the rape atrocities that took place during the armed conflict.  Stories that made me cry as I sat at my desk in Cuba after 8 years of living in Guatemala, thinking of all the people I knew, who had lost family and loved ones in the bloody attack on an indigenous community that had already suffered so much injustice and still does.  Narco traffickers, international big business polluting their beautiful country and corrupt politicians selling everything with impunity.  Guatemala is a country that people just don't want to hear about because it's history is just too tragic and nothing has really changed.  The rich Guatemalan's deny everything just like the holocaust deniers and money keeps on buying their lies.  We celebrated briefly as Rios Montt was sentenced to 80 years in prison only to hear that his sentence has been annulled by some idiotic legal loophole.  It seems that, at least in Guatemala, money can still buy you freedom no matter how much blood you have on your hands.
I remembered one night when I was sitting in a bar in Antigua with a group of acquaintances a few years ago, a fat finca owner sitting next to me declared that most of the atrocities during the war were by the guerilla (so wrong, but his self belief was terrifying, UN figures: 94% of the deaths were caused by US backed army).  He then puffed his chest up even more and announced that the indigenous people were still starving because they were too stupid to know how to eat properly.
Thank goodness I no longer have to live smiling through gritted teeth.  To all my friends and family in Guatemala still living amongst the hypocrisy and injustice, I know you will be strong and brave and keep on fighting for human rights, the right to acknowledge the truth so a society can begin to heal.  We are not living there anymore but we are with you 100% and know that the brave people of Guatemala will never give up in their pursuit of justice.