Our possessions have all disappeared and are due to mysteriously arrive in another country where I am sure we will spend an eternity fighting with the customs  …… but we are ready for it.
What if the ship sinks?  I forgot to take the negatives out of my old pre-digital precious photos.  No time for that kind of neuroticism, now we are officially on the run with all that we can carry, but we have been kindly lent a safe house in Antigua by Rafa´s sister to hide out in our last rainy days in Guatemala.  I have to say it feels a bit weird ……. halfway between tourist and fugitive!
Calle Camposeco is a lively little street not far from the beautiful Merced Church. However, the day that we arrived it was extra lively.  It happened to be their Catholic street party and THE procession event of their whole year.
So, shattered, after moving all day, or nervously watching the ants of Caniz dismantle my home at a frightening pace, we arrived to the pre procession party which in this neck of the woods means loudspeakers outside your window blasting out Mexican ranchera music.  Not a genre that I am too fond of, and not one that I associate with religious festivals, no! far from it ……… generally fat ugly men being lovingly stroked by hot young babes on Bandamax videos.
They packed up at 11pm but were hard at it again at 4.30am the next morning whilst they made their flower alfombras, we had a brief interlude of marimba music before the ranchera music was back to terrorise us ……..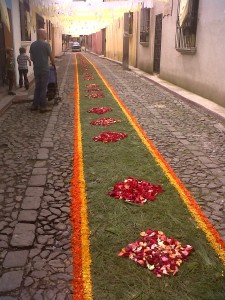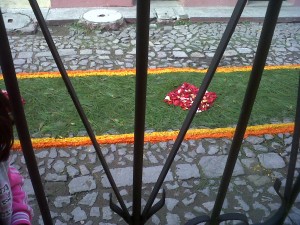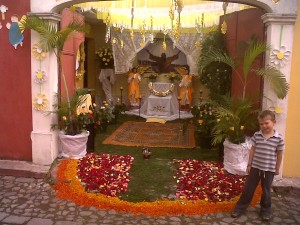 By the end of the morning Paulo was playing football with the neighbours (the ones of the elaborate shrine) and the procession had passed …….and quite nice it was too in the end to watch it all from our little window.