As I was nearing our 3 month anniversary in Havana it seemed an appropriate time to explore the provinces.  We were toying with the idea of Colonial Trinidad or Viñales to the West but finally decided upon French influenced Cienfuegos between 3 or 4 hours away depending on your mode of transport.
Cienfuegos was settled by French immigrants from Bordeaux and Louisiana but apart from some of the grandiose architecture they did not appear to have left much of a cultural influence.  I was peering at the faces to see if I could see something Gallic but they all just looked Cuban to me.  Famous for being the cleanest city and province in Cuba I was prepared for something on par with a mini Geneva and yes it certainly was pretty spick and span.
We were feeling a little vacant after our top night out at the Palacio de la Rumba but I had a pre-arranged white card to leave my 3 nippers with the husband and hop on the bus with London friend so we were going whatever.  The bus wasn't leaving until 1pm so we had some time to get up, have a delicious Saturday breakfast (desayuno Chapin prepared by my noble Chapin husband), throw a few things in my bag (oh the long-forgotten joy of packing just for one) and get the whole family in the car to drop us off at Viazul coach station.  Mission accomplished we were on our way like two little girls on a school outing.
Cienfuegos (literally 100 fires, named after a 19th Century Cuban Captain General) is known as the Pearl of the South, La Perla del Sur and has a famous crooner called Benny Moré as its musical pin-up.  We had been all fired up by the Palacio de la Rumba so Cienfuegos seemed more like 100 smouldering embers rather than a full on fire!  It appeared to be full of pleasant very middle class older European tourists.  At times I felt as though I was in Chipping Camden or Bournemouth ……… and the Rumba seemed a long way away.
But to its credit Cienfuegos is astonishingly clean and manicured and there are some wonderful architectural jewels to keep you happy for a couple of days.  We had been recommended a very pleasant casa particular called Villa Largata right down the Punta Gorda at the end near the park.  It was clean, the beds were big and the food, pretty fine.  We made the mistake of deciding to eat out the first night in the rather grand looking Club Cienfuegos.  The food was expensive and average and the service, what you can expect in a goverment run establishment.  The was one cheeky smiley waiter though and we managed to find a decent bottle of wine on the list.
Cienfuegos was pretty up there on the transport facilities.  The buses all looked new and of course, very clean.  I was impressed with the condition and quality of the average Cienfuegos bicycle.  I don't think I have seen so many shiny new bikes in one town.  The rather more Cuban-looking bicitaxis trawled up and down the Malecón plying their trade to a smattering of tourists and locals.  On Sunday evening the whole of the town seemed to be out in their best togs enjoying the balmy weather and with various types of refreshment in tow.  The citizens of Cienfuegos had an altogether prosperous air about them even if they were a little provincial in their taste and manners.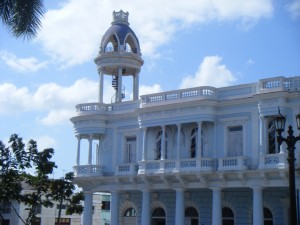 After taking in the architectural gems we discovered that the Hotel la Union had a pretty wicked looking swimming pool and we could lunch there with an extra charge of 3 cucs to swim.  The burgers were homemade and not bad washed down with a Guayaba smoothy.  Yet again we found ourselves surrounded by middle-aged, middle-class Europeans and ended up having a weird chat with a retired Dutch economist about ADDH and psychological conditioning amongst other things …….. wondering when middle-age is supposed to start and if it is more a frame of mind than an age these days? Our chat was brought to a halt by the entrance of a group of rather large tourists (we suspected Belgian Walloons) jumping into the pool.
There were various dancing establishments recommended by Lonely Planet but a quick neb at a couple of them left us feeling cold ……… we were still beguiled by the Rumba and pop covers or Benny crooning just couldn't get us going.
So in summary, Cienfuegos is a nice place to go and chill out.  Stroll around and take in a bit of architecture.  Marvel at the beautiful bay, lie on a sunbed on a wooden ponton jutting out into the water and eat some decent food in some good Casa Particulares.
We got a taxi back to Havana for not much more than we paid for the bus arranged by our new Cienfuegos friend Joyce (or that is what it sounded like) who I think took a shine to my friend from London.  With promises to be back we scooted out of town in a rather clapped out but seemingly reliable little car back to the big bad City …….. or my leafy suburbs close to the big bad city!